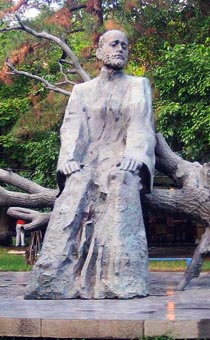 In the square that is in front of Yerevan State Conservatory there is a monument to Komitas, genius composer, a person whom Armenian people are very much obliged to, and Armenian folk music – to almost everything.
Bronze. 1988.
Installed in the park of the Yerevan State Conservatory after Komitas.
 
Architect F. Darbinyan.
Deep sorrow and pain are imbued with the sculptural and graphic works of the master, dedicated to Komitas, who became a victim of the Armenian Genocide in the Ottoman Empire. The figure of Komitas leaning against the apricot tree immersed in sad thoughts is very lyrical in its sounding and plastics language. The image of Komitas stays dear and intimate to Harutyunyan throughout all his work in the arts. The artist appealed to him at different times. This is the last work by Harutyunyan dedicated to the great composer…
Komitas (real name Soghomon Gevorg Soghomonyan, September 26, 1869, Kutahya, Ottoman Empire – October 22, 1935, Villejuif, France) – Armenian composer, musicologist and folklorist, singer and choral conductor.