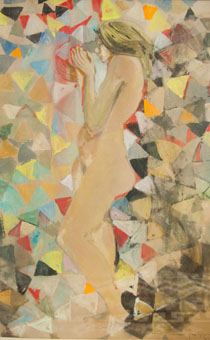 The internal world of A. Harutyunyan is being revealed in a completely new character in his later graphics, characterized by its unique, one may say, even aristocratic refinement...
Paper, pencil, gouache, pastel.
The linear ink drawings are especially masterfully fulfilled. It is in these works when the individual calligraphy of the master can be more evidently seen. The uncommon, effective, sensitive and tremulous line of Harutyunyan seems to be breathing, thus exciting the audience. It can be compared with nothing. It is unique, inherent only to him ("Plea," "Dance", "Sacrifice", "Model", "Theatre".)

"Harutyunyan's images of a female body are akin to the works of Botticelli and Giorgione by their purity and chastity" (S. Kaplanovа. "Ara Harutyunyan". Monograph. Moscow, 1968).